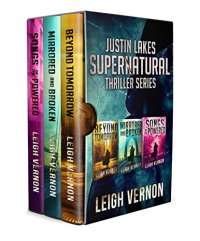 "Leigh Vernon blends elements from the thriller genre with high action and a fast pace woven with supernatural powers and demonic entities? striking the perfect blend with action-packed moments, high suspense, a complex plot, and dangerous turns."–5 Stars, Readers' Favorite
If you love pulse-pounding vigilante thrillers with a ton of action and a dash of the supernatural, then you won't want to miss this series.
BOOK ONE
A beast is coming, one that even the old gods fear.
Justin is honored to serve his people, duty-bound to the woman who showed him his true calling. Like the rest of his unnatural brethren, he's all too aware of the need to keep evil at bay and remain hidden from the world of humans.
But when an ancient enemy rises to challenge them, a beast the likes of which not seen in centuries, the world as Justin knows it is ripped out from under his feet.
Thrust into a race against time and unsure who he can trust, quick wits and a steady resolve will be Justin's only key to survival. He must struggle to find a way to contain the newly-released darkness and defeat an evil that threatens to consume the entire world.
Will Justin find the strength to be a light for those who depend on him? Or will humanity collapse into certain ruin?
BOOK TWO
Whatever you do, never mix science and magic.
When an ambitious and half-crazed scientist tries to break the boundaries between science and the unnatural, he never could have imagined the chaos he would unleash. A secret family emerges from the shadows…a family who holds the key to solving this perpetual struggle.
Still reeling from his past battles. Justin is now faced with a new threat – one that will force him to make a perilous journey across America to seek revenge. Embarking on a quest to find the mysterious Elders, Justin and his friends must prepare themselves for an impending doom which could wipe out his entire people.
But lurking in the darkness is soemthing much more deadly. Something that wants to see Justin dead before he can manifest his full powers – no matter the price. Alliances form. Friendships shatter. Can Justin survive the crushing weight of his responsibility?
BOOK THREE
The world-ender has returned…
And this time, he takes the face of a friend.
As an ancient darkness rears its ugly head, Justin comes face-to-face with his biggest challenge yet. Sucked into a desperate race to find a lost artifact, Justin will need to summon all of his allies and powers to prevent this new evil from completing its horrifying mission and bringing unrivalled destruction to everything that stands in its way.
But the closer Justin gets to his goal, the more secrets are brought to the light. What he finds will lead him to question everything he thought about the realms… and himself.
The tale of destiny begins to unravel. The fate of humanity hangs in the balance. Are Justin's powers strong enough to turn the tide?
And hiding in the shadows, an assassin bent on destruction tracks him, waiting for the perfect moment to strike…
Grab your copy now!