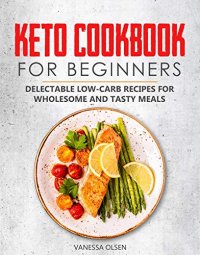 This book will be Free on 14th Aug 22
Set a Reminder:
Google Calender - Yahoo Calender - Live Calender
---
Everything you?ve been told about fat is wrong. It?s time to learn the truth!
It isn?t fat that makes people gain weight; it?s sugar. This is just one of the revelations this book contains. When you fuel your body with the healthy fats found in red meat, dairy, fish, avocados, and nuts, your body enters ketosis, which is when it burns fat instead of carbs/glucose for energy.
Benefits of being in ketosis include improved energy levels, sharper mental clarity, deeper sleep, and healthier skin. This book breaks down everything you need to know about the ketogenic diet, including what you can eat, what you can?t eat, and how to maintain a lifestyle that?s free from refined carbs and full of fat.
You will get 100 amazing recipes that cover breakfast, poultry, beef, pork, seafood, and more. Dishes include:
Classic steak + eggsTurkey pot piesHerb-rubbed pot roastGingery-orange pork roastGarlic-butter shrimpChicken cordon bleu soupBacon guacamole bitesLow-carb raspberry daiquirisMacadamia browniesLemon-lime bars
You?ll also learn how to make your own pantry staples like pesto, Caesar dressing, cocktail sauce, and so on. All the recipes contain detailed instructions, ingredient lists, and nutritional info.
Studies support the ketogenic diet?s reported health benefits, and unlike a lot of diets these days, you get to eat full-fat dairy. A diet where you don?t have to give up cheese? What could possibly be better? Get this comprehensive cookbook today and start your journey towards better health, without giving up delicious food.