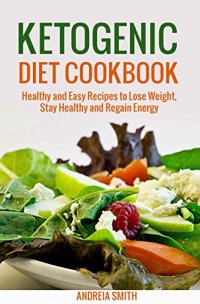 Ketogenic Diet Cookbook
Today only, get this Kindle book for just $0.99. Regularly priced
at $7.99. Read on your PC, Mac, smart phone, tablet or Kindle device.
Have you looked in the mirror recently and thought if you could lose weight and get an attractive figure? Do you want a surefire way to lose weight that is healthy and simple to achieve? Then this cookbook on Ketogenic diet is for you. Often called the "miracle diet," the ketogenic diet continues to be the definitive guide for dieters who want to lose weight and stay healthy. If you have tried other diets and struggled to shed fat, then the Ketogenic diet will help you immensely. The ketogenic diet includes high fat, moderate protein and low carb foods that transform your body from a sugar burner to a fat burner and help you lose weight successfully.
Besides the weight loss benefits, the diet lowers your risk of heart disease, high blood pressure, high cholesterol, diabetes and some types of cancer. Eating a high-fat diet may not be the first thing you consider when searching for ways to lose weight, but the Ketogenic diet offers exactly that. The ketogenic diet has become extremely popular over the years because it truly works. However, to succeed on the Ketogenic diet, you need recipes that are truly Ketogenic, simple and satisfying. All of the recipes in this book are easy to make and made with very simple, easy to find ingredients. Aside from the delicious recipes, this cookbook includes color photos of every finished meal and includes nutrition information to make things easy for you.
Here Is A Preview Of What You'll Learn…
Introduction
Chapter 1 Ketogenic Diet
Chapter 2 Breakfast Recipes
Chapter 3 Lunch Recipes
Chapter 4 Dinner Recipes
Chapter 5 Snack Recipes
Chapter 6 Dessert Recipes
Conclusion
Download your copy today!
Copyright © Andreia Smith, 2017 All rights reserved.
Tags: Ketogenic Diet, Diet Cookbook , Ketogenic For Beginners, The Keto Lifestyle, Ketogenic Cooking, Ketogenic Diet Recipes,