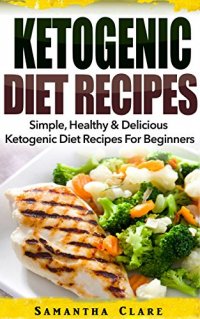 Free on 27th - 29th Dec 15



or borrow free on Kindle Unlimited.
No reviews yet.
70+ Ketogenic Diet Recipes
BONUS Recipes Inside
In this book you will find plenty of easy-to-follow recipes for ketogenic diet dishes that are just as nutritious as they are delicious.
If you are looking for an easy way to get started on the ketogenic diet, then this cookbook is for you. You no longer have to worry about what to cook every day, because all you will have to do is open up this book and choose the recipe that strikes your fancy.
Choose from a wide variety of recipes for breakfast, main dishes for poultry, beef, pork, lamb, venison, and seafood, side dishes and soups, desserts, and even snacks and smoothies. You can even build many weeks' worth of meal plans just by using the recipes here. Rest assured that once you dedicate yourself to the ketogenic diet and not stray from it, you will be able to experience more energy and rapid weight loss. And by sticking to the meals presented in this book, these benefits and more become much easier to do.
The ketogenic diet has helped thousands people across the globe lose weight and transform their body into the healthiest state that it can possibly be. You too can join them once you commit to a healthy lifestyle that combines the ketogenic diet with regular exercise.
Here is just a few of the amazing recipes inside this book:
Almond And Blueberry MuffinsHam And Broccoli QuicheCrunchy Cacao GranolaChicken Avocado SaladRoasted Herb Chicken ThighsStir Fried Beef And VeggiesPulled Pork And ColeslawJuicy Lamb And Blue Cheese BurgersVenison Steak With Capers And Sun-Dried TomatoesSpicy Shrimp And AvocadoPan-Seared Salon With Spinach And Zesty SauceAlmond And Coconut BreadKeto Choco Chip CookiesBONUS RECIPES from "Whole Foods: Whole Foods Recipes – Simple Healthy & Delicious Whole Foods Recipes For Beginners"And much, much more…
Download Your Copy Right Now!
Tags: ketogenic diet, keto diet, ketogenic recipes, ketogenic diet recipes, low-carb, ketogenic diet for weight loss, diabetes diet, paleo diet, anti inflammatory diet, weight loss, healthy lifestyle