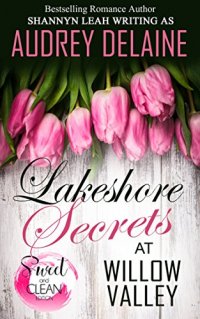 Also Available as:

*** SWEET AND CLEAN EDITION***
Lakeshore Secrets at Willow Valley by Audrey Delaine is the clean and sweet edition of Bestselling author Shannyn Leah's spicy romance novel Lakeshore Secrets. The story and characters remain the same, without any spicy scenes or harsh language.
Kate McAdams was forced six years ago to leave her beloved hometown of Willow Valley, leaving behind her family and the only man she's ever loved, Marc Caliendo. Although she has created a new life for herself away from the drama, secrets and stress of the small town, she must return upon her grandmother's death. Her return brings back wonderful memories, especially of Marc, but also horrible fears from the past.
When fate throws her and Marc together once again, how can they ignore the everlasting love and desire between them? Will Kate stay and face her demons or will the deceit and secrets of the past destroy any future they may have and force her to leave again?
This book can be read as a stand alone, but for more enjoyment read them in the order of the series, as all the characters appear in future books.
Read the full BY THE LAKE SERIES:
THE MCADAMS SISTERS
BOOK 1: Lakeshore Secrets at Willow Valley
BOOK 2: Lakeshore Legend at Willow Valley
BOOK 3: Lakeshore Love at Willow Valley
BOOK 4: Lakeshore Candy at Willow Valley
BOOK 5: Lakeshore Lyrics at Willow Valley