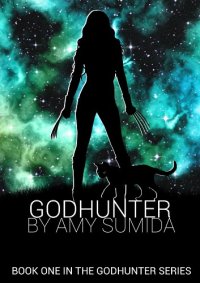 Top - Reviews - Update Details
The Award Winning Godhunter Series!

My life has never been normal.

I was born a witch. I know about the power of Nature and how to harness it. I know about a lot of supernatural things but I never believed in god… not any of them. Until the day one tried to kill me.

That was the day I became the Godhunter, though I didn't know it at the time. Back then, I didn't know about the God War. I didn't know about the gods who fight for humans, even though we don't believe in them anymore. And I certainly didn't know that I would become the greatest weapon in their arsenal.

But that was before I kicked Thor in the balls.
Sassy, funny, and tender, The Godhunter Series will open your eyes to a world you never knew existed. A world of gods and magic, witches and shapeshifters, love and war. Grab your copy right now and join the fight!

Praise for The Godhunter Series:

"Smart, sexy, sassy and sweet this story holds adventure and romance, with a well written and witty take on mythology. Read this now!"

"Vervain, her Gods and her men, they breathe in a way that I am unable to describe!"

"They are so good, they should be savored, but instead I binged on them like a kid on Halloween."
Cover Art by India Jones