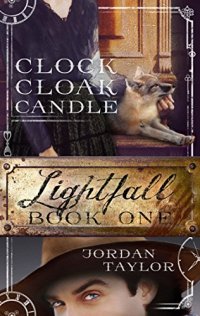 Bargain on 12th Dec 16



or borrow free on Kindle Unlimited.
No reviews yet.
Lightfall Book One of Eight
Six-shooters. Sidesaddles. Flamethrowers. Zombies.
Ivy Jerinson is accustomed to certain standards in life. Steam-heated plumbing, nights at the opera, fine dining and dancing, dirigibles and electricity are luxuries so ordinary in 1870s Boston they seem commonplace to sixteen-year-old Ivy.
Regrettably, the same can be said for structure fires. And zombies.
Isolated and in desperate need of a proper bath at her uncle's horse ranch in quarantined New Mexico Territory, Ivy wishes she was back in Boston, with or without Daray's disease. Her new life of dust, barbarity, and deprivation in the Wild West cannot get any worse … or so it seems until plague catches up to her.
Now Ivy is running for her life, determined to return home, and acting the part of reluctant expert on the deadly affliction that transforms human beings into predatory monsters. If she ever hopes to see Boston again, she must break the law, defy society, and rely on a strange group of new acquaintances, including a convict, a bounty hunter, and an eccentric Swedish maker who just might be able to build her a ride home—for a price.