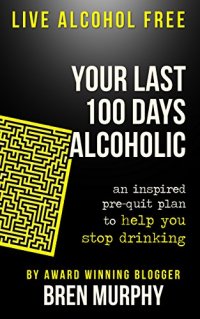 Free on 27th - 30th Aug 15



or borrow free on Kindle Unlimited.
No reviews yet.
Your 100 day countdown starts NOW! Read yourself sober starting today – now – do it right with a PROVEN PLAN to succeed! You can follow my own self help coaching plan – this is not theory – this is a living action plan to succeed and change your life.
Had enough of drinking? Think you might be alcoholic?

What if you could break free from alcohol?

Ready to discover a way to reset your habits and your thinking about drinking?
Welcome to Live Alcohol Free – Your Last 100 Days Alcoholic Pre-Quit Plan – an action based approach to stopping drinking based on proven self-development and personal growth strategies. Sober blogger Bren Murphy shares the tactics for getting sober – plus his real life experience at the end stage of his alcoholism.
Described as a self help book with the personality of a memoir, Live Alcohol Free is the first book you pick up when you are at a turning point with your drinking. It's real, it's genuine and all you have to do is take action! From his rock bottom in the psychiatric hospital to the exhilaration of half marathons – Bren Murphy's inspiring how-to guide will help you to quit booze for good!
Learn About Quitting Before You Actually Quit
Live Alcohol Free works like this –
First, choose your quit date – typically 100 days away – these are Your Last 100 Days Alcoholic
As you read along, discover new techniques and strategies to suit your own sober recovery
Prepare, plan and prioritize for your sobriety each day leading up to your quit date
Action based topics will have you actually doing and participating in Live Alcohol Free
Nurture new habits into lasting lifestyle improvements – and approach you sober date with confidence
Start with Confidence – Not Rock Bottom
Simply by choosing your sober date and working through the countdown, you empower yourself and give yourself the best possible chances of success. Too many sober attempts start from the worst place – rock bottom – and the days of early sobriety are full of shame, confusion and suffering.
Build Momentum and Deeper Understanding
With Live Alcohol Free, you begin your sobriety with the confidence of being pro-active and actually wanting to make the change. Just as important, you will have learned new tools and skills to bolster your resolve. So when you are faced with a trigger episode or alcohol cravings – you will know what to do.
Authenticity of Personal Experience
Look, Bren Murphy has been there. Lining up at the liquor store at 9am? Check! Brushing your teeth the third time? Check! No-one quite knows alcoholism like an alcoholic – that's what makes this book so refreshing. You can read along without the feeling of shame or embarrassment – Bren has been there – and he can offer you a way out.
Choosing Sobriety is always better than Cold Turkey
Choosing your quit date is proven to be much more effective than having a rock bottom incident force you to attempt sobriety. Why wait for another rock bottom moment – and all the shame, humiliation and pain – take control and choose your sobriety on your own terms.
Less Pressure and Calm Clarity
Giving yourself the time to read, accept and implement over the 100 day time frame lifts the pressure and gently builds momentum towards your life after alcohol. The long lead time gives you space to process the opportunity sobriety offers. Reading Live Alcohol Free is designed to give you knowledge and the deeper understanding to make an informed choice when it comes to alcohol.
Part One of the Last 100 Days Guide, where author Bren Murphy shares his journey from bored, alcoholic and fat – into – well, it is a work in progress. One day at a Time, (ODAAT) as they say…