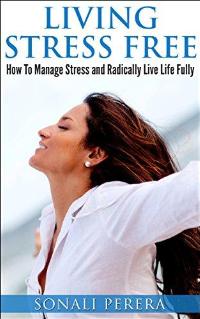 Are you Stressed? Burnt out? Want to Know Ways to Manage Stress?
Then this book is for you! Today only, get this Amazon bestseller for just $0.99. Regularly priced at $4.99. Read on your PC, Mac, smart phone, tablet or Kindle device.

This book will help you learn key tips on stress management, how to handle those crazy out of control days, emotional ups and downs, learn to re-program your natural ability to relax the mind, get centered and embrace a new way to radically live life fully.

Almost everyone has experienced stress in their lives, but unfortunately most people have a very vague idea of what it actually is and get less help. To reduce stress, we first need to understand its causes, and this book will look closely at the psychological and physical causes of stress. It will provide some common physical, psychological, cognitive and emotional symptoms of stress so that you can check whether stress has become unmanageable for you.
Because stress is an evolutionary adaptation, we can never completely eradicate it from our lives. But we do can learn stress management and how to take back control, enhancing our well being and sense of balance. Some stress is good for us and motivates us to achieve our goals, whereas other stress merely immobilizes us and reduces our efficiency.
Using techniques that address every aspect of stress – including breathing, nutrition, physical exercise and time management, you can slowly remove the sources of stress from your life once and for all and live stress free! The book will consider different possibilities and will briefly explain what you can do if your feelings of being overwhelmed and burnt out point to a deeper problem and where to get help if you are suffering from a mental condition.
Here Is A Preview Of What You'll Learn From This Book:
Determine stress and what it is all about
Symptoms of Stress
How to Cope With Stress
Stress in the Workplace
When it's More Than Just Stress
Living Stress Free and Live Life Fully
Download your copy today!

Take action today and download this book for a limited time discount of only $0.99! Don't let stress take charge of your life, control and manage stress now!
Tags: living stress free, live stress free, aspects of stress, symptoms of stress, manage stress, reduce stress, stress management, stress control, relaxing, live life fully