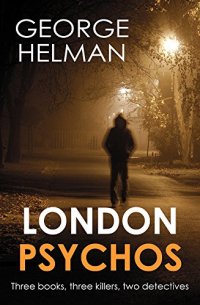 Free on 13th Oct 18



or borrow free on Kindle Unlimited.
No reviews yet.
"Stunning books, excellent value. I didn't want them to end!"
THREE GRIPPING SERIAL KILLER POLICE PROCEDURAL NOVELS SET IN LONDON
Follow Detective Inspector Dave McDonald and Detective Sergeant Shirley Palmer in three separate stories as they tackle three serial-killers terrorising England.
In the first novel, ONLY THE GOOD DIE YOUNG, after a head injury sustained fighting him, the voices of serial killer Richie Henders get into Dave McDonald's head. This starts a long process of the deterioration of the detective's own mental health that runs through the books.
Young Shirley Palmer has to step up to the plate to help her senior officer, as he fails to deal with the strain. But being a black woman, she is up against it having to fight prejudice and ignorance in the force.
McDonald's strange, delirious behaviour gives him crucial insights into the killer's mind in the second book, MORE THAN EVEN. However, it is Shirley Palmer's steady police work that will bring a vengeful and deranged murderer to justice.
In ONE UP ON YOU, McDonald is by now losing his job and Palmer is up for promotion. Their superintendent demands ever more of the team when joggers start to go missing in London's parks. Palmer must trust Dave but makes a crucial mistake that puts everything in jeopardy.
If you enjoy edgy crime fiction that really connects with the culture of its setting, look no further than these gripping novels based in one of the world's most dynamic, diverse and mysterious cities.
ONLY THE GOOD DIE YOUNG (Book I)

A serial killer they'll say. Me! Richard Henders! They'll set me up to be this savage murderer, but those shitting old biddies deserve everything they get. All I've got to do is keep my lock up secret. All I've got to do is avoid the nasty little pigs. All I've got to do is kill the old ones. Because it is all their fault and only the good die young.
MORE THAN EVEN (Book II)

A body found in a block of flats leaves more questions than answers, and Inspector Dave McDonald and DS Shirley Palmer investigate. But will their new police chief thwart their efforts to find a potential serial killer before he strikes again, and will Palmer be able to stick to her guns and trust her instincts?
ONE UP ON YOU (Book III)

British police are on a manhunt for a serial killer who is selecting victims because of their inferior athletic prowess. However, they are stymied by the fast deteriorating mental health of Dave McDonald, who has blank episodes and hears voices, who should be heading the team. Will Shirley Palmer be able to step up and catch the murderer before McDonald's increasingly deranged antics jeopardise the lives of his officers?
Having worked in the mental health sector as a carer for many years, George Helman has a unique insight into the minds of the vulnerable, the depressed and the dangerous.