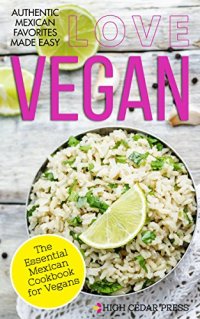 Whether you are a vegan, vegetarian or simply looking to improve your diet 'Love Vegan' has summed up all the Mexican favorites and adapted them so vegans can still enjoy authentically delicious food…and best of all you will not spend more than 30 minutes preparing each meal!
– All recipes are designed to take no longer than 30 minutes preparation time – perfect for creating exciting delicious meals, even on busy weeknights.

– No 'artificial vegan meat' or hard to find ingredients. All recipes are made up of ingredients that you would commonly have in your pantry or can easily find at your local supermarket.

– Authentic and traditional dishes that have been carefully refined to not include animal products yet still retaining the taste, texture and flavour that we all know and love.
Mouthwatering recipes including:

– Mexican Wedges with Vegan Nacho Cheese Sauce

– Fully Loaded Nachos

– Black Bean Flautas

– 7 Layer Mexican Dip

– Vegan Elote (Mexican Street Corn)

– Roasted Sweet Potato & Bean Quesadillas

– Vegan Sour Cream

– Crispy Mexican Churros

– Chili Chocolate Avocado Mousse

– Buñuelos (Cinnamon-Sugar Crisps)
Whatever your reasons are for integrating vegan food to your life, Love Vegan will inspire you to cook beautiful authentic and traditional Mexican meals for all occasions, every night of the week.