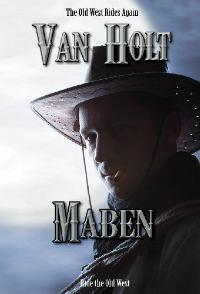 Pre-release pricing! Regularly $7.99!

MABEN
The man who called himself John Parker never actually admitted that his real name was Frank Maben. And old Al Maben, the only one who would have known for sure, had been shot from the brush by an unknown killer as he sat on his front porch in his rocking chair, perhaps thinking about his dead wife and a son he hadn't seen since before the Civil War.
The local ranchers and rustlers seemed convinced that the tall two-gun stranger was in fact old Al Maben's long-lost son. When they weren't too busy fighting among themselves, they spent their time trying to kill him or drive him off the Maben ranch. But when the shooting was over, most of them were too dead to cause any more trouble.
WARNING: Reading a Van Holt western may make you want to get on a horse and hunt some bad guys down in the Old West. Of course, the easiest and most enjoyable way to do it is vicariously – by reading another Van Holt western.
Van Holt writes westerns the way they were meant to be written.
More action-packed gunfighting westerns by Van Holt:
A Few Dead Men

Blood in the Hills

Brandon's Law

Curly Bill and Ringo

Dead Man Riding

Dead Man's Trail

Death in Black Holsters

Dynamite Riders

Hellbound Express

Hunt the Killers Down

Rebel With a Gun

Riding for Revenge

Rubeck's Raiders

Shiloh Stark

Shoot to Kill

Six-Gun Solution

The Antrim Guns

The Bounty Hunters

The Bushwhackers

The Fortune Hunters

The Gundowners

The Gundown Trail

The Hellbound Man

The Last of the Fighting Farrells

The Long Trail

The Man Called Bowdry

The Stranger from Hell

The Vultures

Wild Country

Wild Desert Rose

Coming soon by Van Holt:

Maben

The Return of Frank Graben

The Revenge of Tom Graben

Click BUY now. This special price may change at any time!