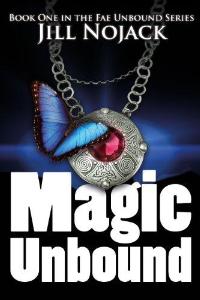 —Magic Unbound is now a free download in the US, UK, CA, and Australia.—
Not-quite-sixteen year old Lizbet Moore expects a boring last month of summer vacation — and she gets what she's expecting until a fifteen hundred year old Fae named Eamon shows up in her backyard disguised as a down-on-his-luck garden gnome. When Eamon slips an ancient amulet around her neck, the memories of Lizbet's many past lives, including her first life as Morgan Le Fae, come slamming back to her to change her summer plans in a way she could never have expected.
Forced to go on the run when murderous monks show up at the back door, Lizbet hops a plane to Scotland accompanied by Eamon, the whispering voices of her past lives, and geekily cute James, the college boy from next door. Not only does she have to dodge the monks, but she's racing against time and greedy land developers to prevent the entire race of the Fae from being destroyed.
The only thing Lizbet knows for sure is that if she fails and can't produce a few live fairies at the end of her journey, she is going to be grounded for life…and probably for her next life, too.