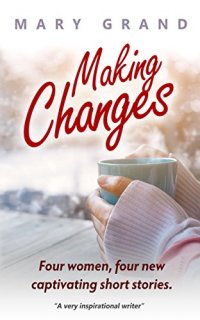 Also Available as:



Print Edition

A wonderful new collection of four captivating short stories by Mary Grand, author of best selling anthology 'Catching the Light', including a special Christmas story, 'Holly's Perfect Christmas?'
Four stories, four women making changes that will alter their lives for ever.
Holly's Perfect Christmas?
Holly plans her dream Christmas at an idyllic cottage in Snowdonia. However her partner's difficult teenage daughter, ex-wife and new husband join them and then the spiteful anonymous texts start to arrive. Can Holly still have her perfect Christmas?
Give and Take
Days before her wedding, hairdresser Lisa has a huge row with her fiancé. He tells her she is over-reacting, so why does Lisa feel devastated? As Lisa listens to the two sides of a couple's marital problems in the salon, she begins to find answers.
The Key
Looking at the remains of the fire in her beautiful new kitchen, Ruth is very frightened and confused. Since moving with her new husband to Worthing nothing in her life makes sense. What is happening to her?
The Right Shoes
After a devastating family tragedy, Emma moved with her minister husband and daughter to the run down seaside resort of Ruxton. She refuses to talk to anyone about it: no-one will understand. Can a new friendship and a new puppy help Emma and her family heal and make a fresh start?
Praise for Mary Grand's short story writing
Catching the Light : 'Delightful collection of short stories, beautifully-written and with interesting plots'
Hidden Chapters
Also included in Making Changes is an excerpt from the author's latest full length novel, Hidden Chapters.
Haunted by the death of Aled at Worm's Head, his sister Catrin returns to prepare the family home for sale, accompanied by her adopted Deaf daughter, Bethan. A web of lies and secrets spun by Catrin's father slowly starts to unravel. Catrin, facing a crisis in her marriage, discovers that she must face this past if she is to heal and take control of her future.
Praise for Hidden Chapters
'Mary's ability to spin tales that incorporate unusual characters and circumstances is uncanny.'- Grady Harp, Hall of Fame, Top 100 reviewer, Vine Voice
'Absolutely brilliant read'
'Mary Grand has a wonderful facility with character and setting and from these two she weaves and conjures a lively, stirring and page turning as well as beautiful tale. I can't recommend it highly enough'
'The beautiful narrative descriptions of Gower really brings the book alive'