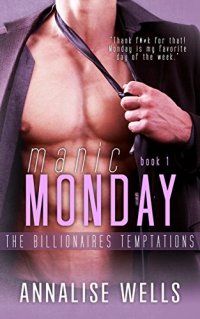 Bargain on 4th - 8th Jun 19



or borrow free on Kindle Unlimited.
No reviews yet.
The Billionaire Temptations Book 1
Everything was perfect. From the chandeliers that hung from the center of the opulent room, to the fine Cuban cigars that were stocked in the hand-carved drawers. Over half a million dollars had been spent just on the furniture alone. There were silk and satin sheets covering the beds and beautiful jasper (crystal gold-tipped) lamp shades to match the velvet maroon and black French-themed rooms; a total of ten rooms with beds and two large suites where the voyeurs and sorts of fun things could take place in warmth and extravagance.
For a billionaire male, the place was perfect. Sexy, private, inviting and stylish. With a bar stocked with the finest alcoholic and non-alcoholic beverages and a dinner menu and a lavish kitchen, well-equipped to handle fine dining for tantalising tastes from around the globe. With roasted Bavarian duck, caviar and the most expensive truffles in the world. It was like Christmas for billionaires that wanted a taste of S@! and the freedom of living out their fantasies at will. A menu of women was offered as well as the extravagant choices on the dinner and drinks exclusively featured lists.
Whatever they craved was available for them at Tina's Place. There was no extravagant name for it… because it was a complete secret, unless you were a member, or a joining one. And with a member list of twenty-billionaires and counting, this naughty parlor was the most expensive in upper-class New York. A hive of gratification and delight that cost big bucks. A million dollars per year to be a member and that didn't include the orders placed there. So, would they choose Shona, Nancy, Angeline, Genevieve, Marta, Sally-Anne, Cally, Josephine, Stacey or Natalie? These fine ladies were all on the menu, Monday to Saturday. A six-day business with the best women in town! This was going to get a little crazy…wink, wink… ssssh! Don't tell anyone…