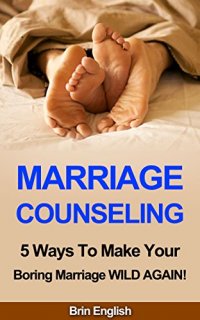 Marriage Counseling
Today only, get this Amazon bestseller for just $0.99. Regularly priced

at $3.99. Read on your PC, Mac, smart phone, tablet or Kindle device.
Has your marriage become a bit too "comfortable"? Does your husband find your marriage "boring"? If you marriage has started to go stale and the fire you once enjoyed has now fizzled, then the time to act is now. Break the cycle and get your relationship back on track today!
In MARRIAGE COUNSELING: 5 Ways To Make Your Boring Marriage WILD AGAIN!

you will learn proven steps and strategies to spice up your marriage like:
How to change your appearance and shake things upHow simple compliments can build up self esteemHow to talk with your husbandHow small acts of kindness can lead to big changes in your marriage

You will also learn:
How sleeping naked can increase your sex driveWhat foods can lift moods, improve emotions, ease stress and increase libidosWhat vitamins help to not only improve your health, but also lead to a better marriageHow to properly set up a sexy shower for you and your husband

The Marriage Counseling book provides simple and fun activities both you and your husband will enjoy and will lead to greater intimacy and passion in your marriage. Don't let the ho-hum of your everyday life lead to a passionless and "comfortable" marriage—start reading today and take those first steps to creating a lasting and passionate marriage instead!
Download your copy today!
Take action today and download this book for a limited time discount of only $0.99!