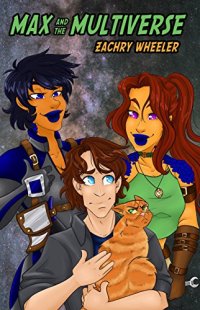 Free on 30th Oct 18 - 3rd Nov 18



or borrow free on Kindle Unlimited.
No reviews yet.
Max is a teenage gamer with an exceptionally dull life. That is, until a bizarre accident leaves him with the ability to shift between parallel universes, but only when he falls asleep. Every time he wakes, he confronts a distressing new reality, be it talking cats or '80s pop culture.
But then one day he awakes to a hyper-advanced version of Earth where humans have colonized space. Determined to escape his mundane existence, Max and his cyborg cat venture into the black, only to entangle themselves in an intergalactic conflict.
A ruthless criminal overlord, a corrupt planetary system, an ornery walrus, a secret society of super nerds, and a pair of plucky orange lesbians round out this crazy, clumsy adventure.
MAX AND THE MULTIVERSE is a young adult science fiction novel. The story will appeal to fans of quirky space adventures such as Martin Leicht and Isla Neal's MOTHERSHIP and Douglas Adams's THE HITCHHIKER'S GUIDE TO THE GALAXY.