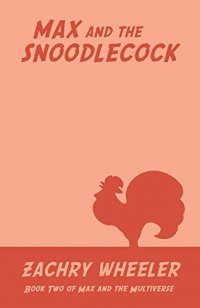 Free on 12th Sep 18



or borrow free on Kindle Unlimited.
No reviews yet.
Max's misadventures through the multiverse continue, this time with more snark. Ross, Zoey, and Perra return for another wild romp, along with several new faces that only a mother could love.
Having survived the perilous plunge into Hollow Hold, Max emerged as an unlikely hero and earned a coveted title as Perra's grease monkey intern. He and the crew swing by a colossal space station for resupply, only to be targeted by unknown assailants.
The resulting shenanigans take them to a roaming planet inside a creepy nebula inhabited by one of the strangest beings in the universe. All the while, Max bumbles his way through bizarre new realities, everything from transparent skin to a world without Bob Dylan.
MAX AND THE SNOODLECOCK is a young adult science fiction novel. The story will appeal to fans of quirky space adventures such as Matthew Kadish's EARTHMAN JACK and Douglas Adams's THE HITCHHIKER'S GUIDE TO THE GALAXY.