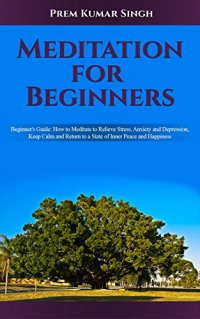 Free on 22nd May 17



or borrow free on Kindle Unlimited.
No reviews yet.
Discover your way to health with this amazing book "Meditation for beginners"
Hi Friends,
Have you been honing the desire to improve your approach to life and achieve a better health by way of meditation? However, many things may have stopped you from doing so. The lack of time, lack of knowledge about how to meditate, busy schedule and too many other causes may have prevented you from treading this path of health. Some of you may have even started; but could not continue with it for long.
Well… This book on "Meditation for beginners" is here to help you fight every excuse of yours that does not allow you to meditate peacefully or continue with it. With this book, you will finally be able to meditate in the right way and derive maximum benefits from this amazing art.
Just follow the tips and the results are guaranteed to come!
Buy this book right now and let it become the healthiest purchase of your life!
So, here's wishing you loads of good luck and get started with the joy of meditation!

Download your copy today!
2015 All Rights Reserved !