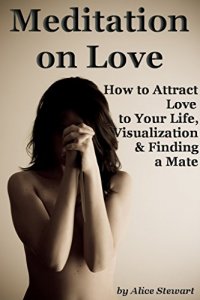 Free on 24th - 26th Dec 15



or borrow free on Kindle Unlimited.
No reviews yet.
Discover ….
Today only, get this Kindle book for just $0.99. Regularly priced

at $4.99. Read on your PC, Mac, smart phone, tablet or Kindle device.
Are you tired of being lonely? Do you want to finally find your soul mate, being together on an amazing life journey, feeling the closeness, the joy of communicating, tenderness, love and passion? Have you known you have enough strength and energy to do this on your own? You just need to know how, the answer for this is meditation.
Many people like meditation. To be correct we should say it this way, meditation is a vital hobby of many successful people. With its help someone can relax, others are trying to attract something into their life, something they did not have before. If you are desperate to find your soul mate, the meditation technique can help you with this.
The special meditation for attracting love is obtainable for anyone. This technique will facilitate your readiness for the meeting a worthy person. It is better to alter various meditation techniques, first use one, then another, and so on.
But if you want to attract love, first you should remember the main Law of Love, only the person who is in love with him/herself, attracts others to fall in love with him/her! Having learned to love yourself, you should learn to radiate love, to send it to other people. Only then can you start working directly toward attracting the right person into your life. We will study all of the three stages in this book. In addition, we will focus on the fundamental technique of visualization will be useful for meditation on all occasions.
Thus you will know:

Step No1. To Love Yourself

Step No2. To Send Love to Yourself, Others and the World

Step No3. Meditation for Attracting Love

The Law of Attraction

How to Attract Love in 30 Minutes a Day

Bonus. Visualization of Love and Relationships
Download your copy today!
2015 All Rights Reserved !