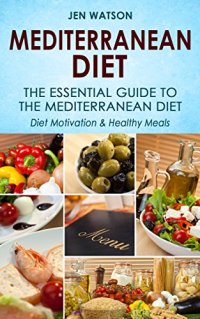 Bargain on 22nd Dec 16



or borrow free on Kindle Unlimited.
No reviews yet.
Want To Find Out The Healthiest Diet Program?
Join us as we discover the ultimate secret together!
??? Read this book for FREE on Kindle Unlimited – Download Now! ???
Eager to find out the most effective way to lose weight? Are you struggling with your eating habits and want to change things up a little bit? Are you ready to face a new challenge with your diet and see results right away?
If you answered "yes" to any questions above, then keep reading!
The Mediterranean diet can be traced way back 1940's and 1950's. Particularly inspired by Spain, Southern Italy and Greece. Today, it is well known to be the most effective diet program that can help people lose weight and most of all, keep them healthy!
The Essential Guide To The Mediterranean Diet: Diet Motivation & Healthy Meals is a book that will take you to a journey of amazing transformation! This is the healthiest way to do it, and Jen Watson, the author of this book, will guide you each step of the way.
This book talks about:
Origins Of The Mediterranean Diet

Typical Food Types Used In Mediterranean Diet

The Science Behind The Mediterranean Diet

Maintaining Nutrition When On The Mediterranean Diet

Maintaining Your Diet
This book not only tells you how amazing Mediterranean diet can be, but it will also help you make the first step towards change by giving you sample recipes to jumpstart your plans of achieving both healthy and beauty
You can now enjoy breakfast, lunch and dinner without having to worry about unwanted calories that are the main reason why our bodies gain extra pounds! More than that, this book will show you how you can prevent cardiovascular diseases from happening to you.
So, be part of the millions who are now taking advantage of the incredible results this program is offering!
Get your copy now to get instant access!
Just scroll up and hit the BUY button.
Wish you luck!