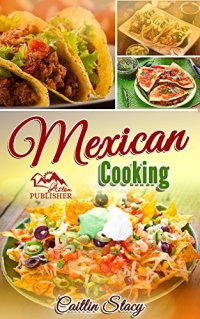 Discover How Easy It Is To Cook Delicious And Healthy Mexican Food!
By Reading This Book You Will Learn The Proper Way of Cooking And Eating Mexican Food!
By Reading This Book You Will Learn How To Make Mexican Meals for Appetizer, Main Dish, Side Dish, Dessert, Salad, Breads and Soup!
This Mexican Cooking Recipes Book Can Be Used by Beginners, As Well As Those Well Informed About Mexican Cuisine
Each Mexican Meal is accompanied By Captivating Photo
Today Only, Get this Mexican Cooking book for just $2.99. Click the "Buy" button and Start Cooking Mexican Food at Home

If You Don't Have Kindle You Can Still Read This Book On Your Web Browser using Amazon Free Cloud Reader.

This book contains proven steps and strategies on how to prepare and enjoy delicious Mexican dishes right in the comforts of your own home. This book will help you cook easy Mexican dishes without the jargon. It also discusses the proper way of serving the dishes in a traditional Mexican way.

You no longer need to spend a lot of money eating in restaurants to enjoy the exquisite flavors of the Mexican cuisine. The recipes included in this book are very easy to follow and fun to prepare so you will not have any more reasons not to get started with Mexican cooking.

Most Mexican dishes are easy to cook, especially the common ones. They may look overwhelming to prepare due to their presentation but they are quite simple. The Mexican way of preparing their food only goes to show that they have high respect for food and they consider it very important. Their dishes are not only filling, they are tasty and healthy too.
Here Is A Preview Of What You'll Learn After Downloading This Kindle book:
7 Traditional Authentic Mexican Recipes

6 Tasty Mexican Meals for Desserts

6 Mexican Meals for Breads

6 Traditional Mexican Meals for Appetizer

7 Tasty Mexican Side Dishes

6 Tasty Mexican Meals for Soup

6 Delicious Mexican Main Dishes

6 Mouth Watering Mexican Salads
You'll Find The Following Main Benefits in This Mexican Cooking Book.
=> Each recipe in this cookbook is healthy, tasty and easy to prepare.

=> Each recipe is accompanied with captivating, beautiful and colored picture of the final outcome recipe.

=> Step-by-step directions for preparing each of the recipes that makes the process of cooking much easier and quicker.

=> Ingredient for every recipe is clearly written and measurements are given in very simple and easy to understand manner.

=> The navigation between the recipes has been made super easy.

=> The cookbook comes with Linked table of contents which made jumping to your preferred and desirable recipe very easy by just clicking on the recipe.

For a full list of what you can see inside, scroll up and click on the look inside feature and check out the Table of Contents!
Don't Lose Your Chance and Join Thousands of Readers Today Before the Price Becomes Higher!
Take Action Right Away To Cook Delicious Mexican Food From The Comfort of Your Home.
Download Your Copy Today!
Tags: Mexican cooking, Mexican food at home, mastering the art of Mexican cooking, Mexican food recipes, Mexican cooking at home, Mexican cooking techniques, how to cook Mexican food, Mexican cooking recipes, Mexican cooking books, Mexican cookbook, Mexican cooking for americans, Mexican cooking for beginners, Mexican cooking kindle, Mexican cooking made easy