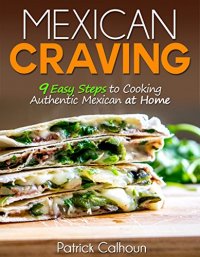 Free on 18th - 19th Dec 16



or borrow free on Kindle Unlimited.
No reviews yet.
People are going to look at you differently after you read this book. They're going to wonder what your secret is. And they're going to ask for your Mexican food again, and again, and again.
Why? Because this book is different.
Most cookbooks throw dozens of recipes at the reader and hope a few stick.
But authentic Mexican cooking has time-honored techniques that have direct impact on the final flavor of the dishes. These techniques are glossed over in other Mexican cookbooks, leaving the reader with dozens of ingredient lists that lack know-how.
Mexican Craving tackles this trend by using 9 Easy Steps to ensure you have everything you need to make truly authentic Mexican dishes.
Author Patrick Calhoun lived in Mexico for two years, soaking up all the bits and pieces of the world's most distinct cuisine. This knowledge has been distilled into a friendly, step-by-step primer that's loaded with hundreds of color photographs to help accelerate the learning curve.
And the best part? It can be easy when it's done right.
Your dishes will not only taste better than the fare at your local Mexican restaurants, they'll also be healthier.
Spend 2-3 hours reading this book and your standard for measuring Mexican food in your area (and even in Mexico) will soon be based on a simple question you can ask yourself: "Is it as good as my own?"
You can start your journey to the heart of Mexico today by scrolling up to purchase Mexican Craving.