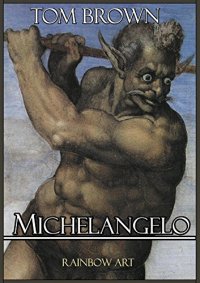 Free on 18th - 22nd Feb 18



or borrow free on Kindle Unlimited.
No reviews yet.
Michelangelo: Complete Works
Detailed Analysis with High Quality Images
(NOW WITH ADDITIONAL FREE E-BOOK)
"STOP."
Michelangelo didn't know what it meant.
Even as a teenager, the famous artist was creating masterpieces every year! And he kept creating them until the day he died.
ART was who it was. He was born for sculpting.
Michelangelo always strived for greatness. He wouldn't be contempt with his work if it wasn't flawless. Michelangelo destroyed and discarded more than one of his sculptures because it had a "tiny" flaw in it.
This is how he created masterpieces! This is how he came up with "David" and "The Sistine Chapel Ceiling". This is why we remember and talk about Michelangelo to this day!
We remember Michelangelo because he created miracles.
But what good are miracles if we don't know anything about them?
Time to put an end to it and learn more about Michelangelo and his masterpieces.
In this book you are going to find:
oHD Images of Michelangelo's Masterpieces
oDetailed Analysis of His Sculptures
oDetailed Analysis of His Paintings
oDetailed Analysis of The Sistine Chapel Ceiling
oSpecific Images of Certain Parts of the Masterpieces
oInteresting Stories Regarding Those Masterpieces
oInteresting Facts About Michelangelo and His Works
oAnecdotes and Stories From His Colorful Life
oSecret Meanings of Michelangelo's Works
oTheories and Methods
You Are Also Going To Find Out:
?How Did Michelangelo Paint a Ceiling?
?Where Did He Get the Idea From?
?How Did Michelangelo Get the Job?
?Why His David is so Famous?
?Why Was He the Prime Choice of Artist During Renaissance?
?How He Gained the Favor of the Medici Family?
?Why Popes loved him?
?Why Popes hated him?
?What Did Michelangelo Tried to Convey US with His "Non-Finite" Slaves?
Read Now And:
?Learn Great Things About the Hidden History of Renaissance Art.
?Learn How to Describe and Analyze Michelangelo's Paintings and Statues.
?Learn How Great an Artist Michelangelo Was.
A FREE E-BOOK
We added a FREE E-BOOK named
"Michelangelo: Biography, Stories and Anecdotes
Interesting Stories, Thrilling Adventures and Curious Events"
so that you can learn MORE about the great master Michelangelo and appreciate his art MORE!
Buy This Book Now
AND
Enjoy Knowing More Than Others