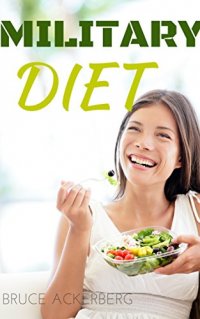 Bargain on 28th Jan 20 - 1st Feb 20


No reviews yet.
A Concise and No-Fluff Guide on the Military Diet
Get this Kindle Book for just $2.99. Regularly priced at $4.99. Read on your PC, Mac, smart phone, tablet or Kindle device.
Most dieters cannot resist eating their favorite comfort foods. They often say, "One more spoonful and it's done" without them knowing they are already on their second plate.
Step 1 will introduce to you the Military Diet. In Step 2, you will learn about the benefits of choosing coconut oil over margarine while preparing the food recommended by this diet program.
Step 3 will reveal to you 10 tips on how to succeed in the Military diet. Moreover, step 4 will provide you with the 3-day scheduler sampler as well as a 4-day diet hiatus schedule sampler. This will give you a sneak preview into how the Military diet works and why you are assured of satisfaction after every other meal.
After setting your menu guide in place, Step 5 will show you how to complete your Military Diet shopping list. Step 6 will show you the top recipes as a head start on your weight loss journey. The best part of each of the recipes is its below 300 calorie energy densities.
When you have completed the Military Diet, step 7 shows how you can sustain your weight loss. Know more about its compatible diet program and its benefits.
You will learn the basic requirements to start reshaping your body through Step 8 on the Military Diet exercise plan. Lastly, step 9 will give you amazing tips on how you can troubleshoot your weight plateau and achieve more muscles and overall body performance.
Table of Contents
IntroductionMilitary Diet in a NutshellBenefits of Choosing Coconut Oil over MargarineMilitary Diet Tips that Speed Up WeightlessMilitary Diet Food Schedule SamplersMilitary Diet Shopping List Top Military Diet Recipes Lifestyle Diet to Sustain the Military DietThe Military Diet Exercise PlanThe Military Diet Exercise PlanTroubleshooting the Weight PlateauConclusion
Download your copy today!
Tags: military diet, weight loss, belly fat, metabolism, coconut oil