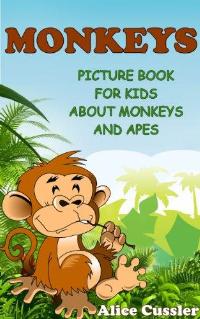 Free on 27th Feb 14



or borrow free on Kindle Unlimited.
No reviews yet.
Children's author Alice Cussler is pleased to present her new book: "Monkeys! Picture Book for Kids about Monkeys and Apes – Funny Monkey Pictures and Great Apes Facts". This fascinating, educational book for kids contains many colorful images and interesting facts about different apes and monkeys. Kids will learn interesting facts about the lives of many amazing animals, including:

– Orangutan

– Gibbon

– Japanese Macaque

– Lemur

– Chimpanzee

– Lowland Gorilla

– Mountain Gorilla
Pimpo-Chimpo has a big family and all his relatives are Monkeys and Apes. He became curious about King Kong. People created a lot of tales about King Kong. They think King Kong is scary and angry. Little Pimpo-Chimpo went to long trip around the world to learn about King Kong identity. He finally learned that King Kong and his relatives, in fact, are endangered and they really need human's help and support.
This book is written to teach children to be responsible towards animals. If children learn to love and respect animals, then there is a big chance that they will become reliable and responsible people
Note: This book is suitable for children 7 years and older (or parents may want to read this book with their children).
SPECIAL PRICING: This book is exclusive to the Amazon store and is currently set at a low promotional price.