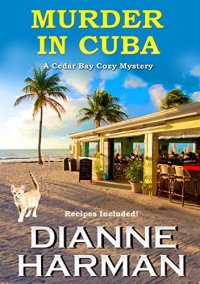 Bargain on 9th Oct 19



or borrow free on Kindle Unlimited.
No reviews yet.
Also Available as:
Print Edition

Seven time Amazon All Star Author with her latest book in the best selling Cedar Bay Cozy mystery series.
Cuba – a land of classic cars, beautiful beaches, salsa music, and the best cigars in the world. As diplomatic relations between Cuba and the United States starts to improve, everyone wants a piece of the action. When Mike's friend, Jack Trout, asks Kelly and Mike to join his wife and him on an exploratory trip to a Cuban island, it's an invitation they can't resist. Mike's dream of fly fishing the saltwater flats on the exotic island is quickly replaced when he's asked by the local constable to help solve the murder of a British fly fishing guide, Dudley Samms. Jack becomes a suspect and his wife, Carola, asks Kelly to help solve the crime.
Plenty of quirky characters have reasons to wish Dudley dead, but who killed him? The Englishman who is the head of one of the largest international banks in the world? The American with no visible means of support, but who has plenty of money to fish all around the world? The victim's wife? One of the Cuban fishing guides? Or was it Jack?
This is the eighth book in the Cedar Bay Cozy Mystery Series. Dianne is also the author of the Liz Lucas Cozy Mystery Series and the High Desert Cozy Mystery Series, all of which are best sellers. To find out more about Dianne and her books, visit her web site at www.DianneHarman.com