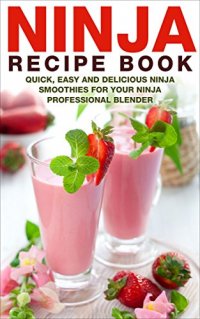 Free on 27th Feb 15 - 3rd Mar 15


No reviews yet.
Looking for delicious, fast and easy recipes for your Ninja?
Today only, get The Ninja Recipe Book: Quick, Easy and Delicious Ninja Smoothies for Your Ninja Professional Blender for just $2.99. Regularly priced

at $6.99.

This Ninja recipe book is not just another recipe book. It's packed full of awesome smoothie recipes that you can use for everyday! Looking to lose weight? There's a section for that. Looking for great tasting, kid-friendly, dessert recipes? There's a section for that. How about detox recipes? Yep. That's in there too.

When using this Ninja blender guide, you'll notice the recipes call for considerably less ingredients than traditional juicing recipes. This saves you big dollars! When the ingredients are processed in the Ninja blender, the food is broken down and pulverized. This not only gives you a silky smooth smoothie, it allows the body to digest easier and take advantage of all the nutrients. You not only feel better and have boundless energy, you'll start to mindlessly lose pounds.

This Ninja cookbook ahs something included for everyone. From low calorie smoothie recipes to awesome fruit concoctions. There's a great section that includes dessert smoothies that is not to be missed!

Here Is A Preview Of What You'll Find Inside…
Butterscotch SmoothieChocolate Chip SmoothieS'Mores Smoothie (My Personal Favorite)Blueberry Cheesecake (Wait till you try this one!)Super Creamy Green SmoothieTriple Threat BerryGreen Tea SmoothieBanana Berry ShakeMuch, much more!

Download your copy today!

Download this Ninja Recipe ebook for a limited time discount of only $2.99!
Tags:, Smoothie recipe book, Smoothie Recipes for Weight Loss, Cleanse Diet, Green Smoothie, Green Smoothies, Detox Cleanse, 10 Day Detox Diet, Sugar Detox, Cleanse Diet for Weight Loss, Cleanse Recipes, Cleanse and Detox Your Body, 10 Day Green Smoothie Cleanse, Cleanse Your Body