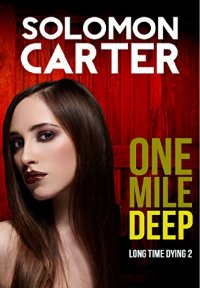 The action packed Long Time Dying series continues with woman sleuth Eva Roberts leading the way into a sexy mystery which is One Mile Deep!
One Mile Deep – Long Time Dying Book 2
Private Detectives, business partners and lovers, Eva Roberts and Dan Bradley are back in action, just as their affair is hitting the rocks.
When DI Rowntree asks Eva to help a foreign girl on the run from sex traffickers, she can hardly refuse. But when Eva meets Zdenka Kruz, nothing goes to plan. Eva's old flame James Winstanley reappears to lure Eva to a tryst, meanwhile Zdenka Kruz seems committed to self-destruction at Dormammu – a private club of vice, sin and violence hidden in the heart of their home town.
Eva is suspicious of millionaire club owner Jon Chesterton's intentions towards Zdenka, and determines to save her. Will Eva's life ever be the same after trying to rescue Zdenka? Can she resist a steamy lust for James Winstanley?
Deceit, lies, passion, and thrilling action combine as Eva falls headlong into a conspiracy a mile deep… and Dan can only watch as his fate is determined by his enemies.
The Long Time Dying Series
by Solomon Carter
Thrilling adventures featuring Eva Roberts & Dan Bradley, private detectives
The Long Time Dying series – in reading order
1. Out With A Bang
2. One Mile Deep
3. Long Time Dying
4. Never Back Down
5. Crossing The Line
One Mile Deep is available at this discount price for a limited time only.
Long Time Dying book 3 is out September 19th!