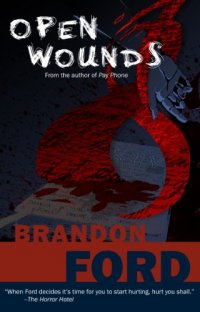 Top - Reviews - Update Details
The first cut brings a wave of calm that immediately washes over her. The second, an incomparable bliss. The third, euphoria in its purest, most absolute form.
A twisted and often unsettling glimpse into the mind of an unwitting victim, OPEN WOUNDS tells the story of a young girl's battle to maintain her safety and sanity after she is preyed upon by a savage predator. She finds only the slightest comfort in scrawling the details of her horrific tale onto the pages of a leatherbound diary. But when her living nightmare becomes more than she can bear, the only comfort she finds is beneath the blade of a paring knife. Night after night, she slices into her own tender flesh, while praying for some escape from a world filled with anguish and torment.
Before long, those leatherbound pages are dripping with crimson and soon, open wounds become ripples of scar tissue.