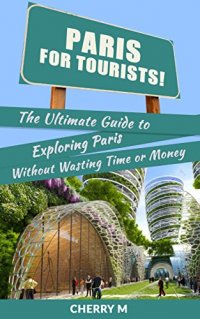 Free on 17th - 18th Sep 15



or borrow free on Kindle Unlimited.
No reviews yet.
Paris is often coined the place for romance, for lovers to spend time together. However, there is plenty more that is offered in Paris. It is a great place to visit if you are single, going with friends, or with your entire family. There is plenty to see and do.
The fact that there is so much to take in though may make you feel overwhelmed when you arrive. It is important to plan your travel plans in advance. Plan events in a central location for the same day. Many of the main attractions around Paris will take you a full day to visit. Others will take you at least half a day.

 

Don't schedule too much to do during your time in Paris. Otherwise, you will be rushed and you will be exhausted. You will find Paris moves at a simple pace. Take the time to relax and enjoy the beauty around you. There are plenty of parks, fountains, and shows that allow you to unwind and just enjoy what is around you.
In this e-book, you will learn about some of the must see and do parts of Paris. You don't want to miss out on what they offer. Fill in the rest of your time with the culture, shows, shopping, and anything else that you enjoy. The goal should be to customize your travels to fit your lifestyle, what you are passionate about, and to include something for everyone you will be traveling with.
Paris is delightful all year round. However, most of the tourists seem to flock there in the spring time. Therefore, going in the fall may be a better option. It won't be cold but there will be fewer people. As a result, you won't be waiting in long lines or have restaurants being completely booked.
You will also find hotels are quite a bit cheaper the rest of the year. The rates in the spring time can be twice as much due to the demand for them. Fewer crowds mean you can enjoy your time in Paris more. You can go through the markets and the sites and get some good photos without everyone being in your way.
The holidays in Paris are delightful. There are numerous festivals and lighting displays that make it enjoyable. If you have gone to Paris before you may wish to enhance the experience this time by going in the winter months. It isn't going to be freezing cold or gloomy.
Winter in Paris is also when you will be able to experience the two all night festivals. They include Montmarte Wine Harvest and Nuit Blanche. Don't worry about not speaking French either. Paris is very inviting of tourists and you will find signs and information in both French and English provided.
By the time you finish reading this e-book, you will have a better grasp of what Paris offers. You will have details about some of the places you should see when you are there and their significance. You will also find out about great places to eat, saving money on your travels, and getting around in Paris.