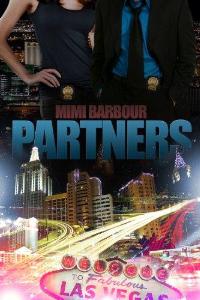 Partners: Book #1 of the Vegas Series – an introduction to the Vegas Characters and a short prequel to Roll the Dice – an explosive thriller with characters that will keep you amused and involved.  

***Most of the many reviews agree that Mimi keeps you invested in the conflicts and plots throughout this wonderful series.
Reviews for Partners:
"Sparks fly in this Outstanding new series!" ~Lorhainne Eckhart
"Another winner from Mimi Barbour" ~Booklover 1960
****Overview:
This thrilling story moves along with a maniac rapist on the
loose. Both detectives, Kai Lawson and Aurora Morelli, have good reason to want
him. The animal has hurt people they love! If only they can work together as Partners,
they might have a chance to put the shmuck where he deserves to be. For Aurora –
it's a jail cell! For Kai – it's a grave!
Praise for Partners:
"Hot Sassy and Intriguing! What's Not to Like?" ~ Romantchick
"A romance or an action packed police drama?" ~ Debbie Carvalho
"This is an excellent introduction to Ms. Barbour's new novel, Roll the Dice." ~ By Hendrik Whitmans
If you like the TV show "Castle" and hard-assed heroines, then you'll love this Vegas series.
***Check out – Book #2 in the VEGAS series – Roll the Dice – Fast-paced, explosive and
thrilling from beginning to end. A serial rapist is on the loose and the two
new partners are determined that it isn't just in the bedroom where they can
work together.
"The imagery is fantastic; it is vivid and realistic and my mental pictures were clear and sharp." ~Dafna Yee, reviews
"Quirky and sparky- Ms. Barbour gets the mix right…" ~Vasiliki Scurfield, WRDF Reviews