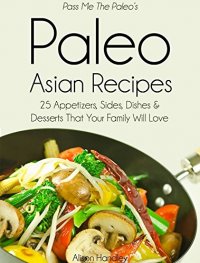 Pass Me The Paleo's Paleo Asian Recipes: 25 Appetizers, Sides, Dishes and Desserts That Your Family Will Love!
Get this Amazon bestseller for just $2.99. Regularly priced at $4.99. Hurry, Sale is only good through October 18th! Read on your PC, Mac, smart phone, tablet or Kindle device.
Free Cookbook Included with Purchase!! Access to "All Day Paleo Recipes: 30 Mouthwatering Recipes for Breakfast, Lunch and Dinner!"
The Paleo Lifestyle is becoming extremely popular, but what about those great Asian dishes you have to give up? In this book, we prove that YOU DON'T HAVE TO! This book includes loads of great Paleo friendly Asian dishes that are Tasty AND Healthy! What more could you ask for as it pertains to the health of you and your family?
Here are all the great recipes you will enjoy
Spicy Crunchy Almond Coleslaw

Delightful and Spicy Chicken Wings

Hot and Sour Pork Soup

Thai Coconut and Prawn Soup

Zoodle Zucchini with Almond and Sriracha Sauce

Tomato, Mango and Mushroom Stir Fry

Millet Seed and Vegetable Rice

Cauliflower Based Rice

Sweet Potatoes with a filling

Roast Chicken a la Massaman

Paleo Friendly Singapore Noodles

Sweet and Sour Chicken Pieces

Glazed Salmon with Pepper and Cream Sauce

Hibachi Style Chicken with Sesame Seed and Fresh Ginger Dressing

Pork and Mushroom Stir-fry

Spicy Scrambled Eggs and Sweet Potato Curry

Best Pho Soup

Mongolian Hot-Pot

Red Chicken Curry

Alternatives to Soy Sauce

Vegan Shiitake Oyster Flavor Sauce

Lime Flavored Soy Sauce

Beef Bouillon "soy'" sauce

Chocolate and Mint Coconut Milk-Shake

Banana, Almonds and Chia Pudding

Refreshing Lychee Ice-cream

Cinnamon Baked Plums

No Cook Chocolate Brownies with a Minty Twist
Free Cookbook Included! Access to "All Day Paleo Recipes: 30 Mouthwatering Recipes for Breakfast, Lunch and Dinner!"
Download your copy today!

Take action today and download this book for a limited time discount of only $2.99 through October 18th!