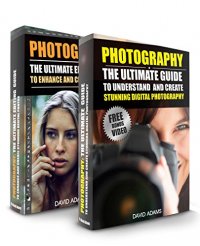 Free on 22nd - 23rd Mar 15



or borrow free on Kindle Unlimited.
No reviews yet.
The Ultimate Guide To Understand And Create Stunning Digital Photography – 2 books in 1 box
Welcome to the Ultimate Digital Photography Guide

FREE Video Bonus Inside
If you are a photo enthusiast, a beginner in photography; if you want to start your own photography business or just take amazing pictures of your world, this useful guide is perfect for you!
A lot of people think the only way to take great photos is with expensive and high quality equipment, but that's far from the truth. The key to taking amazing photos lies within the photographer; the artist who knows everything about his camera, his equipment and team, the composition, techniques, lighting, editing process and many other photography concepts. You may think it will take a lot of time and money to learn all this in order to become a great photographer, but luckily for you, this guide you are about to read contains practical, specific and useful information that will teach you the best ways to take stunning shots.
Do you wish that your "almost perfect" photo becomes a head turner?
Do you want to be an expert in digital photo editing and enhancement? Are your brilliant photography skills overshadowed by your lack of photo editing skills? Do you want to make a statement and upload a perfect picture on your social networks? If yes, then look no more as this book is the ultimate guide in perfecting the art of creating stunning images and effects through the best graphics editor: Adobe® Photoshop®.
If you are one of those who believe that learning digital photo editing is not their cup of tea, then like many others, you will also be forced to change your mind once you scroll through this highly informative book with thorough explanation of the various tools and techniques of Adobe Photoshop. What's best is that it starts from the very basic, so even if you have no prior experience in using photo editing, you can still develop your editing skills and stand out amongst others in the crowd.
Here is what you'll learn:
How Your Digital Camera WorksAutomatic & Assisted SettingsYour Cameras Manual SettingsComposition and TechniqueEditing Images – Color, Tone & EnhancementsCorrecting Scratches, Blemishes & Other ProblemsThe Baby Step: Starting With PhotoshopThe First Big Step: Working on PhotoshopMoving On: Learning Editing and Touch UpsGetting Real: Photoshop EnhancementThe Real Beginning
Available on PC, Mac, smart phone, tablet or Kindle device.

© 2015 All Rights Reserved
Are you ready to get started?
Take action and download your copy Now!
Scroll up, click the buy button & get started today!