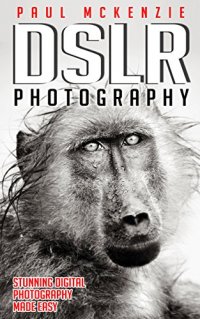 Free on 28th Jun 15 - 2nd Jul 15



or borrow free on Kindle Unlimited.
No reviews yet.
Discover How to Take Stunning and Striking Images with Your DSLR Camera and Benefit Greatly by Taking Matters Into Your Own Hands!
★☆★FREE BONUS AFTER THE CONCLUSION!!★☆★
MAKE SURE YOU GET YOUR COPY NOW TO TAKE ADVANTAGE OF THIS LIMITED TIME PRICE! NORMAL PRICE $4.99
Have you always wanted to change the setting on your DSLR Camera from the automated modes to manual mode but are afraid to do so as you have no idea what you are doing or it all just seems a little too complicated? Are you wanting to learn how to use your DSLR Camera the way the designers intended?
Then if you are interested in learning the essentials on how to take striking images with your DSLR Camera each and every time, then look no further as this is the book for you.
Most people believe if you have the latest camera then that alone will ensure you take the best quality pictures every time. However in photography it's not about having the latest equipment, it's about knowing the correct techniques. It's about understanding the fundamentals of photography, digital camera or otherwise. I put this book DSLR Photography – Stunning Digital Photography together as I want to help you break out of the mold.
✸ Do you want to learn about Aperture, Shutter Speed and ISO and how they make the greatest difference to each and every image?
✸ Do you want to learn how to take pictures in different light compositions?
✸ Have you struggled to balance the subject of the image whilst incorporating a stunning background?
✸ Are you looking to capture the beauty of our surrounding landscapes, like a professional?
You'll learn about all these techniques and more. However the thing that will strike you the most when you read this book is that you're going to see how truly easy it is to take amazing images with your DSLR camera each and every time!
Scroll up and select the Buy now with 1-Click to grab a copy today.