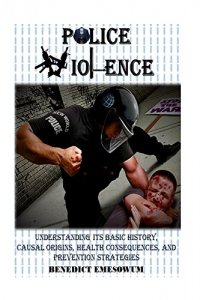 Free on 10th Sep 16



or borrow free on Kindle Unlimited.
No reviews yet.
Also Available as:



Print Edition

Power corrupts, and absolute power will absolutely corrupt the police. The American Founders understood the importance of limiting government's power, thereby putting in place balances and checks to achieve it. The police have a lot of power: as you walk or drive, they can stop, detain, arrest, assault, vandalize, and even kill you with impunity. With the vast resources at the command of the police, it's easy to see how even a humble person can become intoxicated with the powers granted the police.
Police Violence outlines the origins of the police, and how those origins, certain behaviors, and other factors explain the deaths of people like Eric Garner, Sandra Bland, Samuel Dubose, Walter Scott and many others. The U.S. media has extensively reported police violence, but analysts have offered little information on why it happens or ideas for prevention. This groundbreaking book takes you on an honest intellectual public health journey while staying true to the realities of the issue for the everyday reader.
Uniquely written with historical, scientific

legal, and psychological perspectives

from an author who has experienced

police violence.