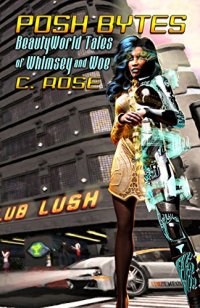 Bargain on 12th Dec 17



or borrow free on Kindle Unlimited.
No reviews yet.
FALL INTO POSH BYTES, WHERE EVERYONE IS BEAUTIFUL…
In a universe where anyone can choose to be beautiful, who really is? Appearances can be deceiving, and usually are. When reality is shaped by illusion, anything can happen.
Eye of the Beholder – Lavender is a woman who hasn't been able to get over the death of her spouse until the day she meets an unusual man who captures her heart. Will the secrets the two keep from one another jeopardize their budding relationship?
The Hawk – Sparrow is an astronaut whose world is turned upside down after an accident that claims his neural implant and almost costs him his life. What happens when his limitations provide him with a unique opportunity beyond his wildest imaginings?
Supernova – Mink is a rising, young supermodel who craves perfection and immortality, and will go to any lengths to achieve her goals.
Shark Bait – Shark is a professional thief, unable to complete a heist to steal celebrity sex pheromones for the black market. Is he being set up for failure?
The Death Mask – Beetle is an elderly mortician who crosses paths with a young woman unable to deal with the death of her mother.
Clover Fields Forever – Clover is a beauty and fashion program junkie who can't stop spending money. What happens when she finally alienates everyone around her?
Moth to Flame – Moth is an unassuming fashion programmer who gets drawn into the dark world of corporate espionage and human slavery.
These Posh Bytes: Tales of Whimsey and Woe explore the human element in the BeautyWorld Universe, where nothing is quite as it seems.