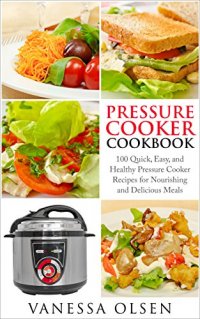 Free on 28th Aug 22



or borrow free on Kindle Unlimited.
No reviews yet.
This book will be Free on 28th Aug 22
Set a Reminder:
Google Calender - Yahoo Calender - Live Calender
---
Did you know that the healthiest way to prepare meals is also the quickest? Pressure Cooker – 100 Quick, Easy, and Healthy Pressure Cooker Recipes for Nourishing and Delicious Meals provides all the information you need to use a pressure cooker, along with 100 delicious recipes just waiting to be tried out.
This pressure cooker cookbook will transform your kitchen routine. Instead of toiling over a hot stove or oven for hours, you can make meals like fall-of-the-bone ribs in a third of the time. Pressure cooking is also the best way to preserve the nutrients contained in food, so you get the best of both worlds! When you get this book, you get access to a host of information, including but not limited to:

The difference between electric pressure cookers and stove top cookersThe health benefits of pressure cookingHow to use a pressure cooker safely How to convert slow cooker recipes to a pressure cooker
You also get 100 recipes for breakfast, lunch, dinner, side dishes, snacks, and desserts. Learn how to make quick, delicious dishes like:

Spicy honey-sriracha chicken thighsCheesy broccoli soupSavory salmonStuffed acorn squashCool and refreshing key lime pie
I've even included a section just for Vegan pressure cooking, and many of the other recipes are vegetarian, gluten-free, or can be easily adjusted to accommodate those allergies. For your convenience, there are also two indexes at the very end of this cookbook, one for converting the cooking time of various dishes to a pressure cooker, and another on how to can foods using a pressure canner. Whether you've used a pressure cooker before or have never even seen one in person, this book will enlighten you and open you up to new and exciting cooking adventures! You'll wonder how you ever did without a pressure cooker.
Don't Delay, Download This Book Today and Get a FREE Paleo Diet book!
Tags: pressure cooker cookbook, healthy pressure cooker recipes, quick and easy meals, healthy diet cookbook, pressure cooking, quick healthy meals