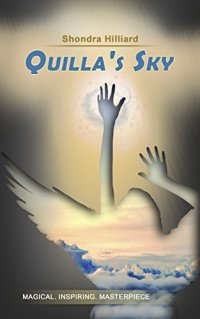 Free on 18th Jul 15



or borrow free on Kindle Unlimited.
No reviews yet.
Quilla's Sky is the First book in the four book series (An Angel Spirit).
We all know being a teenager can be pretty hard. Trying to assert your independence, find your own voice, or even to get noticed by the cute boy at school. It can suck! Imagine how hard it would be if you had freaking wings!
Quilla Sparks is an awkward seventeen year old that was gifted or cursed with large birdlike wings. Sure, you're thinking that would be awesome! Who wouldn't want to fly!? Well the first rule Quilla learns is NO FLYING!!! Not only that, she is trapped in a seemingly maximum security prison, a.k.a. her quaint suburban home. Her parents treat her more as a lab experiment than a daughter. They administrate daily tests, under the instruction of government sanctioned organization known as PRIME. PRIME's purpose is using supernatural creatures to advance their technology. Poor Quilla would have never seen daylight if it wasn't for the tiny loophole in her phylogeny.
She needs real sunlight, fresh air, and a hint of freedom to thrive. A thriving specimen is better than a dead one, they tell her, at least for now. But when Quilla puts her limited freedom to the test by accidentally flashing her feathery secret to the boy next door, Mason Price. PRIME is forced to reexamine her value in a series of deadly obstacles, her own personal "Quilla Games," which pit her against mechanically modified paranormal creatures. Quilla has to push her doubt aside and discover her own strength to "Progress or Die" is the PRIME leader, General Hamm insists. This is the first action packed book in a four book series. Quilla's Sky is a challenging, captivating and inspiring story.