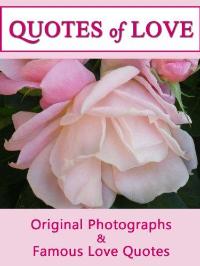 PERFECT GIFT FOR NEW MOTHERS & YOUR MOTHER'S BIRTHDAY!
A collection of famous inspirational quotes and original photographs of nature through the seasons.
This is a special selection of 12 unique photographs, including gorgeous roses
Each one is complemented with an inspirational quotation celebrating mothers
Includes 12 love poems chosen to recognize everything mothers do for you
If you can't find the words to express your love and appreciation – this is the perfect way to show how much you care
You will be remembered for this gift of inspiring quotes long after a card has been put away and forgotten, and these flowers will last forever
The Quotes of Love Amazon Kindles are created as a unique alternative to a greetings card.
Thank your mom for all she does – she will be touched to receive this gift of inspirational quotes for mothers.
This quote collection book is part of the Quotes of Love series, with special poems added to show gratitude for your mother.
These positive inspirational quotes are sure to make your mom feel proud she raised such thoughtful children.
This beautiful, inspiring Kindle book shares love through mothers quotes, mothers poems, and photographs taken with love.
Make your mother feel special today!
A link is included to free wallpapers with inspirational quotes for your mobile / cell phones.

You can view this quote collection book anywhere with your PC, Mac, Tablet or Smartphone, using the free Amazon Kindle downloads, so you can appreciate the full colors.
Scroll up to buy Quotes Of Love: A Compilation of Quotations & Original Photographs For Mothers