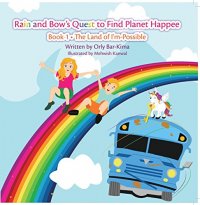 Free on 12th - 13th Feb 15


No reviews yet.
This book appears to be unavailable on Amazon.co.uk at the current time. If this is incorrect, please let us know here
Rain and Bow are seven-year-old twins. Rain is a good brother to Bow, his sister.

Their story begins not long after they moved, with their parents, from their beautiful home in the valley to a house in the dull grey city. Their mother is unhappy, as is their father, but this is where they must live and things, for them, cannot change.

Rain and Bow don't have any friends and prefer to be with each other. One day after school, they notice something strange behind an old house. They soon discover that it's a big blue bus – an old and magical big blue bus!

They decide to travel, in their imaginations, to new worlds. They decide to search for Planet Happee!

Before they can blink the bus whizzes them away to the Land of Im-Possible. In this new land they learn that they will need to find twelve keys if they want to get to Planet Happee. 'Each key must be found in a different world', they are told.

In this, their first adventure, Rain and Bow must discover how to turn adversity into advantage in order to find the first key. They will meet Ican, their mentor and guide who will help them on their journey. They will also meet a crocodile, a snake and a worried mother bear! Follow them now on their adventure, and you too will learn about the first key to transformation.

This is the first book in 'The Twelve Keys For Transformation, For Children' series.