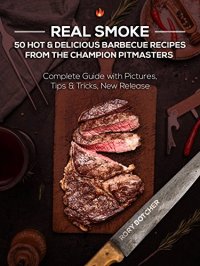 Free on 21st Jan 17


No reviews yet.
Also Available as:



Print Edition

This book appears to be unavailable on Amazon.co.uk at the current time. If this is incorrect, please let us know here
Smoking Meat & Jerky Recipes
Smoking meat is a super ancient and really popular method os preparing red meat or fish. The technique used helps to keep these protein-packed foods, that would otherwise spoil, preserved. Smoking meat gives you the ability to store it at room temperature because the smoke contains these chemical compounds that halt the growth of bad bacteria.
Smoking is an art, not a science, and I'm going to show you how super easy it can be. Everything you need to know about smoking meat is packed neatly inside my smoking meat recipe book.
Today, when you grab your own copy of my book, you are going to get access to my most cherished jerky recipes. I was kinda hesitant sharing them. I don't know why. I guess they just really grew on me and I sort of, somehow, became attached to them.
Scroll Up, Buy Now & Start Smoking. You're Gonna Absolutely Love These Smoking Meat & Jerky Recipes.
This book is great for those:

– Who love smoking meat & jerky but don't know where to get started

– Who have never heard about smoking meat but want to learn more

– Smoking meat Veterans who just want to add more delicious recipes to their arsenal
So Next Time You Have a Party or a Get Together…
Be sure to grab one of my favorite 25 smokin delicious recipes, blow the minds of your guests and keep them coming for more.
Some of the recipes that you'll find in this book are:
– Seriously Smoked Brisket

– Breath-Taking Barbecue Pork Shoulder

– Chili-Smoked Chicken

– Super Smoked Pork

– Ultimate Smoked Pork Shoulder

– Championship Pork Butt

– Smoked Chicken with Fresh Herb Marinade

– Sweet Smoked Pork Ribs

– Smoked Redfish

– Wild Smoked Turkey
And these are just a few that are included in this fantastic smoking meat recipe book.
Simply Click on "Buy now with 1-Click" And Start Your Journey Towards The World Of Smoking Meat Today
I look forward to getting you started on some on my most favorite recipes that I've ever shared. Trust me, it's worth it!

Scroll Up And Start Enjoying This Amazing Deal Instantly