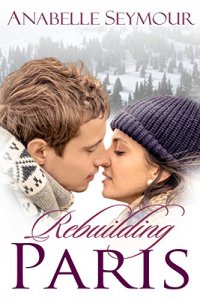 Rebuilding Paris is a poignant tale of shattered dreams and new beginnings.
In the midst of a promising adolescence, sixteen-year-old Paris has her faith and innocence cruelly stolen one sinister night. Shamed and spiraling out of control—she leaves Oklahoma to escape the constant anguish she's been forced to endure.
Four years later, life has become somewhat manageable. Paris lives in a sleepy Colorado ski town and waitresses to make ends meet. She's made some friends, but every relationship is superficial and no one knows the haunting truth of why she's there.
All she's focused on is getting through the days, one by one.
Luke is a local snowboarder and gives lessons at the lodge Paris works at. When a mutual friend suggests he take Paris on as a student, he agrees. She's beautiful and he's inexplicably drawn to her, but the last thing he's looking for is a girlfriend. He still hasn't gotten over the injury that dashed his Olympic dreams and, though he's physically healed, he's lost his drive.
An unexpected bond forms after Paris reluctantly signs up for Luke's class and they find themselves sharing their darkest secrets. Paris starts to loosen control of her carefully constructed world and discovers Luke is someone she can trust. A glimmer of hope begins to flicker for both of them, but everything changes when she comes face to face with the nightmare she left behind.
And now it may be too late for anyone to get a second chance.
Author Anabelle Seymour has created two empathetic characters who are struggling to overcome life's greatest pains and disappointments, while finding the courage to face an unknown future.