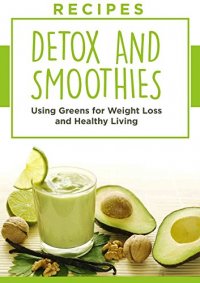 Free on 25th - 29th Dec 15



or borrow free on Kindle Unlimited.
No reviews yet.
PLEASE NOTE: You DON'T need a Kindle to buy this. Available for immediate reading with your Amazon virtual cloud reader.
Green Juicing, Detoxing, and Smoothies For Weight Loss And A Future Of Healthy Living.
You know what they say: Green is good! But majority of the world's population don't seem to understand the benefits of the green leafy vegetables. Green juices can significantly reduce cholesterol level and when you drink fresh-made green juice, it is almost like getting an intravenous dose of vitamins, minerals, and enzymes. And because they go straight to your system without the need to be broken down, it greatly improves you overall health.
This book provides different juicing to help you lose weight, detoxify and live a healthier life. These awesome drink targets specific parts of your body such as your skin, bones and eyes!
7 Reasons to Buy This Book:
Learn to make your own green smoothies

Boost your immune system

Lose weight fast

Become more energetic

Improve your brain health
And many more!
So if you're seeking change in your diet, Recipes: Greens, Detox, and Smoothies For Weight Loss And Healthy Living. will help you achieve that!
Download this book today
Get started on your journey to a healthy lifestyle!
"Take care of your body. It's the only place you have to live." – Jim Rohn
Enjoy!