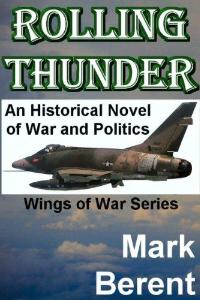 They were America's bravest men – seasoned veterans and young daredevil pilots with dreams of glory in the air…Court Bannister, an Air Force captain overshadowed by his famous father, driven to prove his worth to his comrades – and himself…Toby Parker, the brash first lieutenant who gambled his innocence in the flames of war…and Wolf Lochert, the Special Forces major who ventured deep into the jungle to rescue a downed pilot – only to discover a face of the enemy for which he was unprepared.
Rolling Thunder is an explosive portrait of men at war, so authentic and powerful, only a veteran pilot could have written it.
It is the first of the five-book Rolling Thunder series. Next are Steel Tiger, Phantom Leader, Eagle Station, and Storm Flight.
"A taut, exciting tale of good men in a bad war. Berent is the real thing." — Tom Clancy
"Rolling Thunder is terrific – a novel of exceptional authenticity that hits like a thunderclap. A decorated Vietnam pilot, Mark Berent knows planes and men and battle, and he whirls them around in a story of uncommon strength." W.E.B Griffin