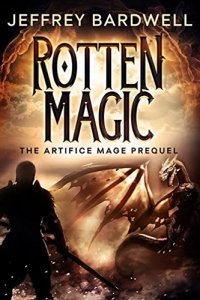 Devin will do anything to win. Even resort to magic.
Devin competes to become the best artificer in the mage phobic Iron Empire. Who needs magic when you can master the art of machinery? The other apprentices envy his genius and skills . . . especially Benson. Every apprentice hones their craft building and fighting in crude prototypes of powered armor. Some add frills, others barbs or horns. When Devin transforms himself into a mechanical dragon to slaughter the competition, Benson steps into the role of dragon slayer.
But Devin harbors a secret as he claws his way to the top of the Artificer's Guild: he's a mage. These new abilities are thrilling and frightening, and the voices more so. How long can Devin be content wearing a steel dragon mask when the seductive promise of true arcane power whispers in his ear?
Experience the novella prequel to the Artifice Mage Saga: a fantasy steampunk brawl of metal vs. magic where sorcery is bloody, science is greasy, and nobody's hands are clean.