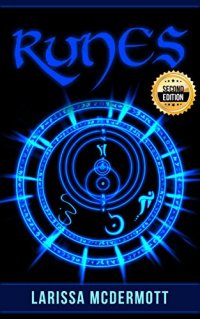 Free on 6th Nov 18



or borrow free on Kindle Unlimited.
No reviews yet.
Also Available as:
Print Edition

Your Comprehensive Guide to Runes

Free bonus inside! (Right after Conclusion) –

Get limited time offer, Get your BONUS right NOW!
***2ND EDITION***
A simplified yet detailed handbook about the Runic Alphabet
In Nordic Runes: Viking Divination Stones' Demystified, Complete Handbook, you'll learn all you ever wanted to know about this ancient alphabet and why it is still applicable today for use in various languages. The book will give you insight into how Runes came to be, how they were discovered, why the modern alphabet as we know it today looks so much different yet is similar to the runic alphabet, how you can use runes to make your life better through divination and meditation and so much more! You will read about

o Elder Futhark alphabet

o Anglo-Saxon alphabet

o Ancient Latin alphabet

o Role of Runes in divination

o Interpretation of Runes

o How to read Runes

o Modern Day use of Runes
If you are seeking to enhance your linguistic skills as part of practically bringing out the modern day use of Runes to be able to do more than just write in the usual Latin alphabet, reading about the Elder Futhark alphabet, Anglo-Saxon alphabet, Ancient Latin alphabet Will help you understand better how the Latin alphabet fits into Runes.
Read this book for FREE on Kindle Unlimited – Download NOW!
This book will leave you in a better position to know how to read Runes, their interpretation, as well as get deeper insight into the roles of Runes in divination.
Just scroll to the top of the page and select the Buy Button. Download Your Copy TODAY!