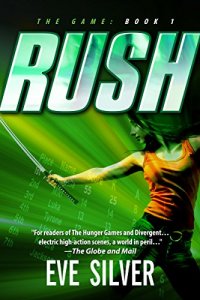 Also Available as:



Print Edition

WINNER of the Forest of Reading White Pine Award! Shortlisted for the Monica Hughes Award in Science Fiction and Fantasy!
So what's the game now? This or the life I used to know?
Sixteen-year-old Miki Jones is pulled from her everyday life into an alternate reality game where she and a team of other teens battle the Drau–beautiful and deadly alien creatures bent on mankind's destruction. There are no dry runs, no boot camp, no time to acclimate to new weapons. There's only the mission: kill or be killed. Make it out alive, and Miki gets to respawn back in her real world … but only until she's pulled into the terror of the game again and again.
The team's mysterious leader insists it's every player for herself. Other players whisper about hit points and health bars and a way out of the game. Everyone has secrets. Everyone lies. And when the mission takes a deadly turn, Miki's only hope for survival depends on her figuring out who–and what–to trust.
Thrilling action and addictive romance–a mind-bending rush of a read!"–Pittacus Lore, New York Times bestselling author of the I Am Number Four series
"Smart and original, Rush is an action-packed ride with plenty of heart."

–Kelley Armstrong, #1 New York Times bestselling author–
"RUSH is an intense, pulse-pounding thrill-ride…you need to read this book!"

–Morgan Rhodes, New York Times bestselling author–
"The battle scenes are visceral and taut. The intricate, multilayered plot is inventive…Mind candy for those teen readers who love the thrill of the game."

–Kirkus–
"Silver has produced a taut, exciting YA debut with believable dialogue, enticing characters, and a cliffhanger ending that will have readers waiting impatiently for the series' next instalment."

–Quill & Quire, starred review–
"Whether teens read this for the romance or the science fiction, they'll finish eager for the second installment of the Game series."

–Booklist–
"For readers of The Hunger Games and Divergent, Rush follows in a similar new tradition, with electric high-action scenes, a world in peril…"

–The Globe and Mail–
"The stakes are high, the action is consistent, and there is never too much revealed at once; Silver has a wonderful talent with suspense. . . . Highly Recommended."

–CM Magazine–
"The addictive plot, fresh setting and amazing characters create a novel you'll stay up late to finish."

–RT BOOKreviews–
"RUSH is a thrill ride of a read with hot guys, aliens, and LOTS of action. Perfect for gamers AND romantics."

–Amy Christine Parker, author of Gated–