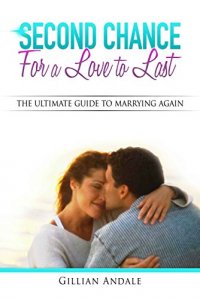 Free on 10th Feb 15


No reviews yet.
This book appears to be unavailable on Amazon.co.uk at the current time. If this is incorrect, please let us know here
We have coaches for sport, finances, physical fitness, personal growth and business. This book is your coach for the most important aspect of your life, your relationship with your new partner, especially if this is not your first…..

Whether sanctioned by the state, 'blessed' by the church, or a personal de facto agreement between two who wish to become one, when you come right down to it 'marriage' is the coming together of hearts and minds in love. I believe it takes patience, humour, and a whole lot of that love to make a strong, solid and passionate marriage. It can be the most important and fulfilling creation of our lives, full of brightness and warmth, but all too often the passion is lost over time. Work, children, physical tiredness, and aging all take their toll, and slowly but surely that wonderful exciting feeling is replaced by habit, routine, and duty. It happens, but it doesn't have to happen to you.

To have a strong and fulfilling relationship that will last takes some hard decisions, open communication, compatibility, continuous work and a whole lot of love. Gillian is passionate about defying the statistics around second marriages (and relationships) ending due to the stresses experienced by couples who get overwhelmed by the complexities and challenges when finding love again after divorce or the death of a spouse. She takes you on a journey from understanding the history and evolution of marriage, the impact of global change on our relationships, knowing yourself, understanding your partner, building a strong and compatible relationship through to the aspects of merging families, finances and lifestyle.

You will learn:

• Why the institution of marriage has survived for at least 5,000 years

• How to recognise and strengthen all areas of your life

• Why it is important to understand the impact that 21st Century changes are having on our relationships

• Why there has never been a time when the perfect family unit existed

• Why no marriage is a failure

• What drives us and why it is important to identify our highest needs, values, love language and

personality type

• What does love look like to us, and how that may change as we age

• What to ask so we understand our partner and our compatibility

• The seven most common heartbreakers of second marriages and how to turn them into love makers

• How to nurture and grow love, passion and intimacy

• Why it is important to build a strong foundation and master the art of communication

• The impact that families and friends can have on relationships and how to combat this

• When children are part of the package, how to see the impact from their viewpoint

• How to address the issues of finances, inheritance and legal matters that might affect you

• Effective strategies for merging homes and lifestyles…and so much more
Gillian Andale is the founder of Love2Last, a coaching and resource centre for couples who have found love again and want it to last. She is a qualified coach and behavioural specialist as well as a successful business woman, who draws on her own practical experiences as a second wife, mother, step mother and step grandmother. She is also the author of Encore Marriages, a practical guide to planning and enjoying your second wedding.