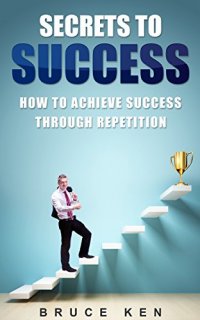 Free on 19th - 23rd Aug 15



or borrow free on Kindle Unlimited.
No reviews yet.
Success is something that everyone yearns for. However, you need to know the right strategies to apply in order to achieve it and we unveil a great secret in this book which is the use of repetition to achieve your goals. Repetition can help you succeed in various things such as business, relationships, savings goal, fitness training, and playing music and so on and this book focuses on teaching you how you can apply it in various aspects of life.

The book first tells you why it is important to use repetition to achieve success. It then goes on to show you how repetition can help you succeed in fitness training. For those who would like to succeed in music, it explains how you can apply repetition to help you achieve your goal. The sales business is one area that greatly thrives on repetition and we discuss how you can apply it in this field.

There are some mistakes people normally make while pursuing success and these are highlighted in the book to prevent you from doing the same. If your goal is to succeed at losing weight then you can still do it by using the principle of repetition and you will learn how to go about it when you read the book.

Becoming successful requires some sacrifices along the way and this book gets into a discussion on some of the things you need to give up in order to achieve success.

After achieving the success you have been yearning for, it is important to know how to maintain that success and all these are discussed in the book. This book will help you know how to achieve success through repetition. All the best!